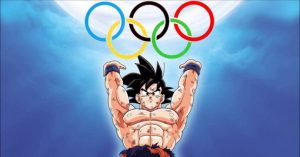 Goku has inspired a lot of fans over the years to keep trying, to keep training and to never give up.  It's a message which I think has made him the clear choice to be the main representative to the 2020 Tokyo Olympics.
Japan decided to make Goku the main representative along side a host of other Anime characters from shows like One Piece, Naruto and Astro Boy to bring in more young fans to the Olympic games.
They have already started on making merchandise or the games which feature some of Japan's top anime characters from the last 30+ years.
It's worth noting that Goku has beaten some strong foes in his days but none with as strong a following as Pikachu and his Pokemon friends which don't seem to have made it to the final cut of representing Japan in the games.