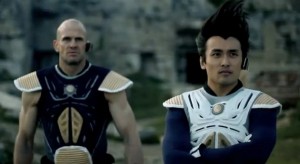 The final version of the fan made K&K Productions Super Saiyan Sega has been released in its final 5 minute trailer form.
It started with a target of raising $5000 to help cover production costs and in the end earned $14,273 through its Indiegogo page alone. Although its been a huge success for the two brothers they are leaving the Saiyan Saga here and may be moving on for a second trailer.
At the moment there is a strong chance we may see a Namek saga which will require a larger budget for costumes. Personally I'd love to see K&K Productions to visit Namek even if its just a Ginu Force intro.
Dragon ball still remains the he most inspirational manga ever made, with fan made productions like this, Absalon and DBZ Abridged not to mention all the fan made Manga there is always something new round the corner.