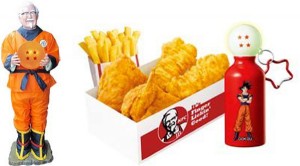 The new Dragon Ball Z movie is taking Japan by storm with the news of a new Battle of Gods movie. Everyone seems to be getting ready for the release even KFC's very own Colonel Sanders.
Seven selected KFC restaurants in Japan will host a special Colonel cosplayed up as Goku.  Each statue will have a Dragon Ball  numbered 1-7 and be on display from February 15th.
Sapporo, Hokkaido
Sendai, Miyagi
Ebisu, Tokyo
Sakae, Nagoya, Aichi
Osaka
Hakata, Fukuoka
Okinawa
For those not able to see one of the seven statues the other KFC restaurants in Japan will have limited edition drinks bottles which will aparently light up and probably be one of many very in demand DBZ collectors items out this year.