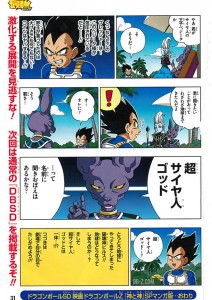 The Battle of Gods DVD will be releaseed in Japan this September and to keep the mega fans happy there will also be a manga available which covers the movie.
This new manga is said to follow the movie and be in the same art style as the orginal DBZ Manga. It will hopfully cover the whole story too unlike the SD Dragon Ball Manga which was released a few months ago.
The new manga is due out in October 2013 and is currently available on Amazon Japan. So far we don't know if it will be translated into English or Spanish or get a release outside Japan but there will probably be fan translations out by the end of October.
Thanks to Kanzenshuu for the news.