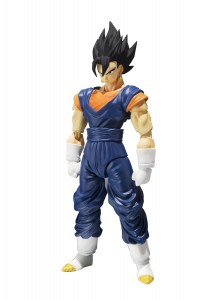 Bandai are making some amazing toys in 2014 and the Dragon Ball Tamashii Nations line is getting stronger with a wider selection of new characters coming out.
The International release date for Vegetto is set as May 2014 and the figure is now up for Pre order via amazon which will be the cheapest place to order any of the upcoming Figuarts Toys.
This masterpiece incarnation of Vegetto comes with:
Vegetto comes with Super Saiyan hair

Interchangeable face parts

Characteristically crossed arms

Five interchangeable hands

Energy blast part.