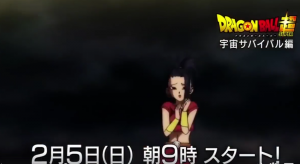 As a twenty year or so fan of Dragon Ball I don't think I've ever been so excited. The next arc of Dragon Ball Super looks to deliver what every fan wants, more fights, more diversity and more Broly.
The clip is only 15 seconds long but they fit a lot of teasers into the trailer including a girl version of Broly.
Now we know from the first tournament there was a mirror image of Earth but for some reason it was destroyed, after the tournament they brought it back to life and I'm hoping this season will tell us what happened to it and who destroyed it.
It's good to see Krillin fighting again and we might even see Gohan return to battle in the new arc. Unfortunately we can't see the star of the last tournament Monika the delivery drive with the huge nipples but I'm sure he will show up again in Dragon Ball Super soon.