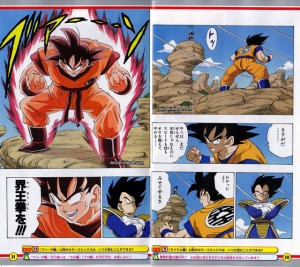 Thanks to the guys at Saiyan Island we have some amazing news on the status of Dragon Ball Z Manga reprints and it being in full color which will start being released this February.
The Dragon Ball Z Manga is one of the most in demand at the moment as Viz released the full box sets of Dragon Ball and Dragon Ball Z a few years ago but have yet to rerelease the full sets. Most shops will stock the off Viz Big volume and some of the smaller books but they are getting harder and harder to find as a full set.
The news we might get a reissue of the full series is amazing news for new and old fans as the books will be easier to find and for older fans who already have the series will be able to see them in a whole new light.
At the moment an English translation hasn't been confirmed but they should start being available this August / September if all goes well. We may even see a Viz big release in full color which would be majorly epic.
For the Japanese release the Saiyan Saga will be released February 4th in full color with the Freeza Saga coming April 4th and the rest to follow some time throughout the year.