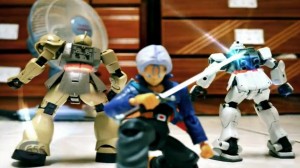 If you combine the coolest things in the world, Stop motion cartoons, Dragon Ball Z, toys, Gundam and special effects you get something amazing.
This is a fan made stop motion movie featuring S.H.F Figuarts toys Trunks and Piccolo along with some of the smaller scale Gundam figures. The movie has some amazing special effects for a fan made movie and is a total must watch.
I knew the Figuarts toys could pull off some amazing poses with the 30+ points of articulation but I never thought of how cool they would be in stop motion.