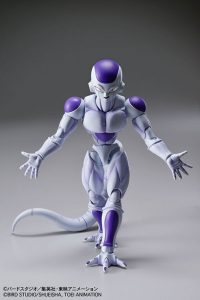 It's been years since Bandai first released their MG Goku kits, they are probably the two longed in print kits the Japanese company has ever sold and considering their how popular Gundam kits have been it's a bit achievement for Dragon Ball fans.
Currently about $25 on Amazon.com which is cheaper than the Figuarts Frieza and this one looks to be a bit bigger too.
At the time they had planned to make more then just the Nomal version and Super Saiyan Goku. There were prototypes of Vegeta and Trunks too which were never released along with a few resin kit add on and conversion kits.
Finally after many years DBZ fans will finally get their hands on a new Dragon Ball model kit from Bandai, this time it comes in the form of Frieza, his complete form in fact.
It looks to be in the same scale as the old MG Goku kits but now Bandai reserve the MG label for Gundams alone now.