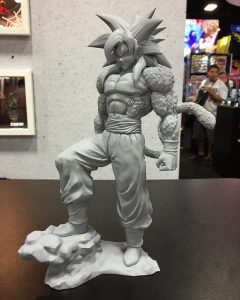 This was first shown at SDCC 2016 on the Tamashii Nations booth. It's the early pre painted Super Saiyan Goku from the Figuarts Zero line.
With Dragon Ball Super we have stepped in a different direction to Super Saiyan 4 we we have jumped straight to the god modes so it's nice to see them still returning to this iconic stage of Saiyan evolution.
This isn't the first time we have seen a Super Saiyan 4 Goku in the Figuarts toy line, it wasn't too long ago since they displayed a group shot of Goku through the ages and made prototypes from Kid Goku all the way to Super Saiyan 4 in the S.H.Figuarts series of articulated figures.
From the picture we can't see the exact scale, if it will be one of the 5 inch ones or one of the taller models in the series.