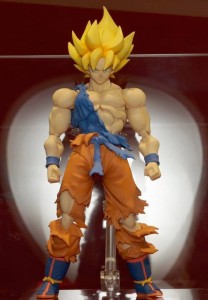 Tamashii Nations continue their mission to bankrupt every Dragon Ball Z fan with another amazing S.H.Figuarts Dragon Ball release.
This time they have stepped back a few seasons and returned to the Frieza Saga. This is when Goku realizes he is the legendary Super Saiyan and kills Frieza for the first time.
The best thing about this figure is it has the most detail out of all the S.H.Figuarts toy line and brings back the most popular character in the series with a whole new toy mold.
The only thing that could make this figure look any better is if they made a new head as it looks like it is the same one they used for the Super Saiyan Goku figure.