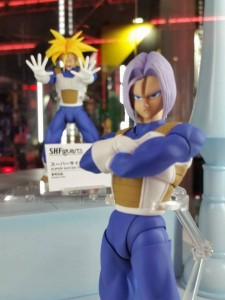 The first Super Saiyan Trunks figure was one of the most popular in the Dragon Ball S.H.Figuarts series and Tamashii Nations are bringing him back.
This one has been rumored for a while but at a recent toy show in Japan Tamashii Nations showed off a whole year or two of releases and one of them was this whole new mold of Trunks.
At first it looked like this would be just the Super Saiyan Vegeta body with a new Trunks head but a close up picture of this figure shows us it's a whole new toy which looks like it has even more articulation than the other ones.
Like the first Trunks this one comes with two heads, one normal with his classic purple hair and one all Super Saiyan spiked up.
Estimated release early 2016