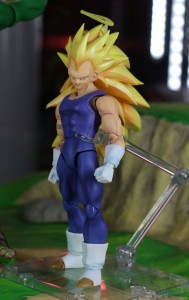 This could be one of the most wanted Dragon Ball toys ever and we still haven't seen Vegeta like this in the manga yet. It's been something everyone has thought about since Goku went SSJ3 and from what I can remember we recently saw this in one of the DBZ games. Finally Super Saiyann 3 Vegeta is coming to the S.H.Figuarts Dragon ball line.
This figure was shown at a toy show in Japan along with other future releases like Super Saiyan 2 Trunks and even a new Super Saiyan 4 Goku.
At the moment there isn't a release date for SSJ3 Vegeta but every DBZ fan will be wishing on their Dragon Balls that this figure doesn't become another Figuarts Napa which never got released.