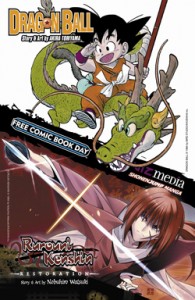 Free Comic Book Day is coming to local comic shops world wide on May 4th 2013 and as it does have every year there is a mixed selection of comics. This year Viz are offering the first chapter of Dragon Ball in a double pack with Rurouni Kenshin preview book.
Viz published Dragon Ball in two separate collections, Dragon Ball which followed Goku growing up and Dragon Ball Z which started when the Saiyans invaded. Both collections have been in high demand over the last year but have been very hard to find and listed at very high prices.
This is great news as it shows us Viz are thinking of reprinting both series and possibly the new color versions which recently got released in Japan.
A seminal series from a legendary creator. Dragon Ball, a wry update on the Chinese "Monkey King" myth, introduces us to Son Goku, a young monkey-tailed boy whose quiet life is turned upside-down when he meets Bulma, a girl determined to collect the seven "Dragon Balls." If she gathers them all, an incredibly powerful dragon will appear and grant her one wish. But the precious orbs are scattered all over the world, and to get them she needs the help of a certain super-strong boy…
During the violent upheaval of the Bakumatsu era, Hitokiri Battosai was a feared and ruthless assassin. But now that the Meiji Restoration has begun to heal the wounds of civil war, Battosai has taken up a new name…and a new calling! He is now Himura Kenshin , a rurouni wanderer who has vowed to only draw his sword to protect those in need. But not everyone is pleased with Kenshin's new direction, and enemies from his dark past have vowed to bring him down!
See the listing on the Free Comic Book site.