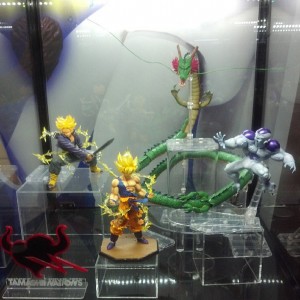 The most shockingly amazing figure ever thought up could be released this year. This picture comes from SDCC 2013 as a sneak preview of the toys joining the Figuarts line up including a Figuarts Shenron.
I don't know how they have even come up with this extremly ambitious figure but it's the biggest Shenlong I've ever seen and is also fully articulated.
It's hard to think how it will even stand up or how much something like this would cost but I really hope they get round to releasing it and not just teasing us for years like they have with the Black hair Goku figure.
This year it also looks like we will see Android 17 and 18 for sale but at the moment we don't know if it will be a doulbe pack or if they will be sold seperatly.