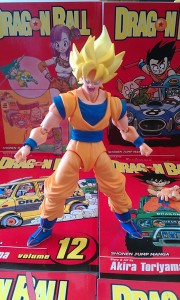 Another of the high demand Figuarts toys has come back into print with Super Saiyan Goku. The initial release sold out very quickly and before this reissue came out it was selling for up to ten times its original price online.
This reissue brings him back to fans who missed him the first time and with the limited toys from the Battle of Gods movie this is probably going to be the most popular Dragon Ball Z figure of the year.
The body is the same mould as the Super Saiyan 3 release and will be used ont he Normal Figuarts Goku when  he gets released. For a reissue the joins are super tight and support the figure with a lot of poses really well especially compared to SSJ3 Goku who finds it hard to stand up.
The paint on this figure is also one of the best in the series so far apart from maybe Cell, it's not over applied like on the SSJ3 Goku and just looks like it should. Unfortunatly due to the skin tone you can't do an easy head swap with SSJ3 Goku who has a really dull paint job.
Accessory wise he comes with a nice selection of hands and two faces. For such an iconic character I wish they included more like a stand or the normal Goku head which would have made this fiugre a near masterpiece.
Overall this figure comes highly reccomended as this is the third or fourth reissue of this figure and we might not see another if they decide to move forward and release others in the series.