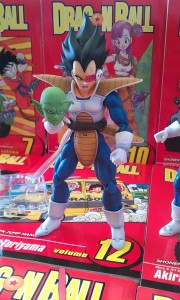 Hot from the latest Amazon order we have S.H Figuarts Vegeta, this is the normal version from the Saiyan Saga which was in popular demand ever since we got our hands on the awesome Super Saiyan Vegeta Figure.
The main differences between the norm Vegeta and the Super Saiyan are the shoulders and the hair. Both figures are made on the same base mould so parts can change over and you even get a spare black head with the Norm Vegeta.
The best part about this figure is the accessories, he comes with two of the legendary scouters one to wear and one to crush. Unlike most of the other releases he comes with a stand which holds energy blasts and supports some flying action poses.
He also comes with two tails making this one of the most dynamic releases in the series as you can make some really iconic scenes from the anime with it compared to one like Super Saiyan 3 Goku who can barely stand up.
Overall it's a well reccomended buy especially at the moment since Amazon have him at a record low price. Also if you already have the Super Saiyan Vegeta it opens up a whole new set of compatible accessories including the crossed arms.