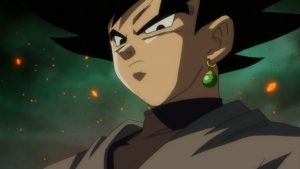 He's one of the most dangerous looking bad guys to appear in Dragon Ball since it's creation. He looks like Goku, fights like Goku but is pure evil hence the name Goku Black.
We know he's destroyed worlds and has even managed to beat the Z fighters in at least one timeline. In a desperate attempt Trunks leaves everything he had behind to gather help from the past. As soon as he does Goku Black pulls out a magic ring which lets him teleport through time.
Episode 50 of Dragon Ball Super will debut the first fight between the two Goku's. It's expected to last at least four episodes as seen below episode 53 will fill us in on the back story of Goku Black.
DBS episode 50  "Goku vs Black" – 3rd July
DBS episode 51 "Missing Mai across time" – 10th July
DBS episode 52 "Gohan and Future Trunks" – 17th July
DBS episode 53 "Black's Identity Revealed" – 24th July
From the looks of it we are going to see an amazing battle along with a well thought out back story. Ever since episode 28 of so of Dragon Ball Super the series has gone from great to greater, levelling up like a super saiyan cartoon.
Who is Goku Black? at this point it looks like he might be Goku from universe 6, the twin universe where everything is backwards. We know their Earth was destroyed somehow and it could have very well been Black that did it.
One thing I would love to see from this is Vegeta step up and beat Black in an epic battle. So far we have seen Goku show his strength using Kaoken x10 as a God, but what powers has Vegeta been hiding.