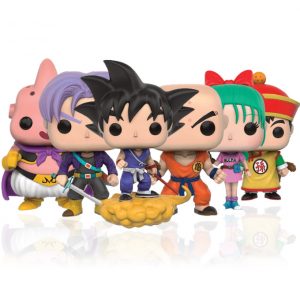 Following on from the massively popular Funko Pop Vinyl Dragon Ball series they are finally ready to release series 2.
Where the first series focused on bringing us characters from the second series Dragon Bal Z this one brings us the iconic first incarnation of both Goku and Bulma from the first series.
The first series of Dragon Ball Pop Vinyls were shipped as five characters. Cell, Frieza, Vegeta, SSJ Goku, Piccolo with a very limited and rare 6th figure based on normal Goku. There was also a few recolored editions. This series comes shipped equally as a six figure set featuring kid Goku, Bulma, Gohan, Krillin, and the long awaited Trunks and Boo.
So far Funko have given us all the main bad guys which are mega cute versions of the most evil beings in the 7th universe. With them moving back to bring us some good guys and also bring in Goku and Bulma from the original Dragon Ball series I'm really looking forward to a third series.
I'd have loved to see a series or two of just original series Dragon Ball characters. There are so many characters that would make a good Pop Vinyl like Oolong, Master Roshi, King Kai even Android 8 would be a great addition to any DBZ toy collection.