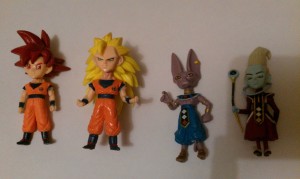 A year on from the release of Dragon Ball Battle of Gods and we still haven't had any proper toys made yet. The ones we have had include the WCF mini statues which are massivly over priced as they were only released in Japan.
The bootleggers have been busy making ko Birusu figures in Mexico and now China have made much more affordable yet badly painted versions of the WCF mini figures.
These copies are perfect for customs if you want the heads for figures or you don't mind repainting them.
If you are worried about buying a bootleg there are a few distinctive differences.
The original stands are clear/black plastic. These KOs have full black stands with pegs which don't fit the figures.
The original ones have clear L shap stands which help them stand up, only some of the KOs in the set had black ones and they didn't fit the figures.
The paint on the KOs is some times ok but most of the time it will be chipped, the wrong shade or not painted at all.
Plastic wise the figures feel the same and weigh the same too.
In the pictures below the Birusu WCF on the left is the official one and the ones on the right of it are fakes. Out of these fakes Wiss is the worst in terms of paint and moulding and SSJ3 Goku is probably the best quality of the set.
Overall if you have been after a set of WCF Battle of Gods figures but can't afford the expensive over priced official ones these are a great alternative. With a bit of paint and some time it wouldn't be hard to fix them up.